LPS Lisboa PRO 2020
European Skateboarding Open
---
Lisboa - Arreiro
17TH to 19TH December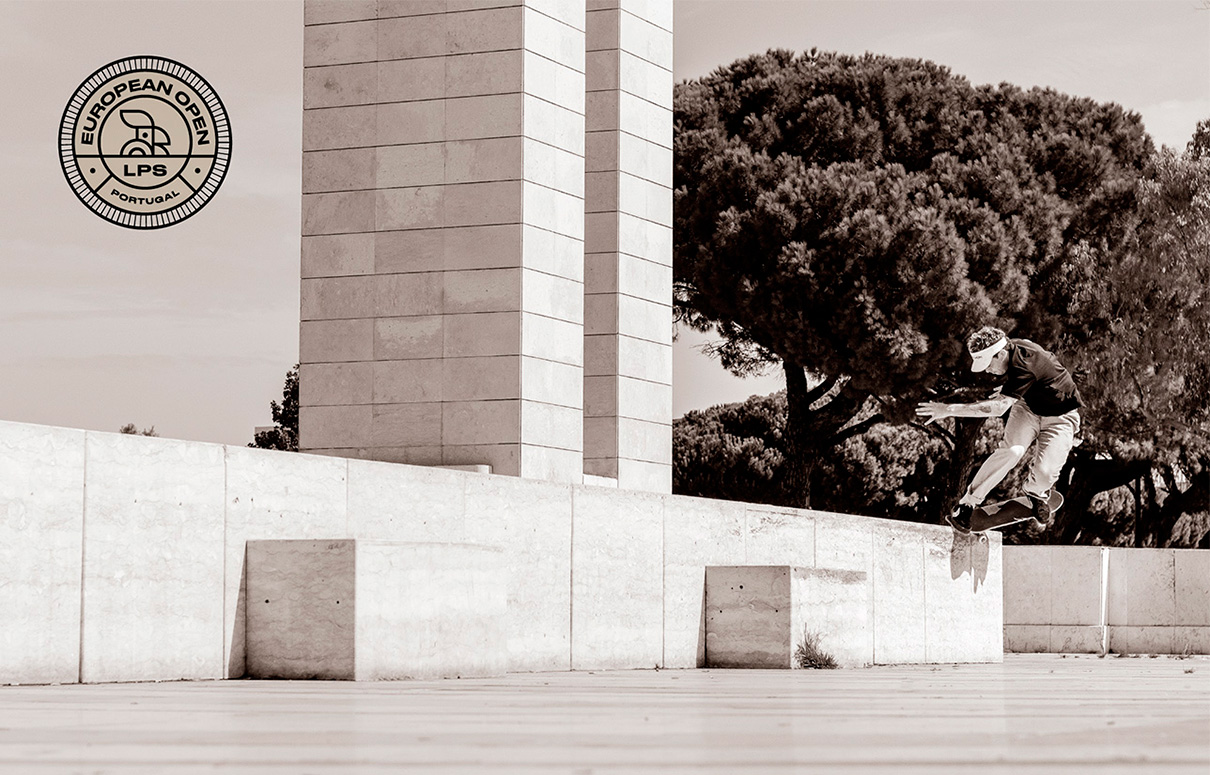 Últimas notícias
Nenhuma notícia encontrada.
Sobre o evento
The LPS LISBOA PRO SKATEBOARDING EUROPEAN OPEN is a skateboarding competition, of "Street" division, opened to all European athletes federated in their countries' federations, recognized by World Skate, the governing body of the skateboarding modality, officially recognized by the International Olympic Committee.

The event will have the Men's and Women's divisions. For the Portuguese athletes, this competion will score for the National Open Ranking that will crown the Pro Skate 2021  League Champion. This will be the last of 4 stops.

The LPS LISBOA PRO SKATEBOARDING EUROPEAN OPEN takes place in parallel with the 5th and final Stage of the National Championship by Echelon, which defines the National Champions in the Under 10, Under 12, Under 14, Under 16 and Under 18 Men and Under 12 and Under 16 categories Female.

The Event will take place in the following format:

NATIONAL CHAMPIONSHIP BY STEP

Men: Qualifying Rounds – Top 8 Athletes make it to the Final.

Women: Qualifying Rounds – 8 Best Athletes make it to the Final.

LPS LISBON EUROPEAN OPEN

Men: Qualifying Rounds, Quarter Finals, Semi-Finals and Finals.

Female: Qualifying Rounds, Final.

The SKATE PARK

A structure of wooden ramps will be set up for the competition, which brings together a set of obstacles properly designed for the level of the competition.

The court has two balance lines, one with quarters and the other where the start box is located, the main area that features a double set about 3 meters long.

Between handrails, curbs and ramps, athletes can choose where they want to make their art shine and get the best performance out of the assembled structure.
Registo dos atletas
To enter the competition, you must be federated by the federation of your country of residence, or if you are residing in Portugal, simply complete the registration process on the 17th between 9am and 1pm at the competition office.
Registration for the test is free, for that you must register until December 15th at 00.00 pm on the registration platform - LiveHeats | Live Scoring and Competition Management Platform for Sports
Access is allowed to all national and foreign athletes residing in the national territory, to all European athletes and a limit of 30 non-European foreign athletes.
Non-European athletes must submit their approval to the competition organization, and for that purpose, submit their registration interest to
info@ligaproskate.pt
Acesso ao público
LPS LISBON PRO | SKATEBOARDING EUROPEAN OPEN, TAKES PLACE AT THE VISTA COUPLE SPORTS COMPLEX IN LISBON, WHICH IS A MINICIPAL SPACE GIVEN FOR THE PURPOSE BY THE LISBON AUTARQUIA. IT HAS A CAPACITY OF ABOUT 3000 SEATS.

PUBLIC ACCESS IS FREE, AND ALL RULES MUST BE FOLLOWED IN ACCORDANCE WITH THE CONTAINMENT MEASURES IN FORCE FOR SPORTS ENVIRONMENTS IN PORTUGAL.

WE WANT YOU TO VISIT US, TO EXPERIENCE PORTUGAL AND THE CITY OF LISBON.

ENJOY AND ENJOY A HIGH LEVEL SPORTS EVENT, ORGANIZED FOR ATHLETES BUT ALSO FOR THE PUBLIC.
Programação
The event will take place between the 17th and the 19th of December. Simultaneously with the European Open, the last stage of the National Amateur League will take place.

17th

9:00 am – 1:00 pm Accreditation at the race office
10:00 am – 1:00 pm Amateur training session
1:30 pm – 3:00 pm Women training session
3:00 pm – 6:30 pm Men training session
6:30 pm – 8:00 pm Open Qualifier Women
20:00 pm – 22:00 Open Qualifier Men
10:00 pm – 10:30 pm Pre-Selected Training Session Men

18th

9:00 am – 3:00 pm Amateur Eliminations
3:00 pm – 6:30 pm Amateur Finals
19:00 – 19:30 Amateur Awards Ceremony
6:30 pm – 8:30 pm Men's Final Quarters Training
8:30 pm – 10:30 pm Men's Final Quarters

19th

9:00 am – 10:30 am Women's Half Finals
10:30 am – 1:30 pm Men's Half Finals
14:00 – 15:00 Paraskate – Demonstration
3:00 pm – 3:30 pm Music Fest
3:30 pm – 4:00 pm Women's Warm Up
16:00 – 17:30 pm Women Finals
5:30 pm – 6:00 pm Men's Warm Up
18:00 – 19:30 pm Men Finals
7:30 pm – 8:00 pm Prize Giving Ceremony
Como chegar
Complexo Desportivo Municipal Casal Vistoso
Rua João da Silva, 20 - Lisboa
Coordenadas GPS:
Latitude: 38.7429262
Longitude: -9.12872483982467

Autocarro:
717, 718, 720, 735, 756

Comboio:
alcântara - castanheira do ribatejo (du), roma-areeiro -coina, sintra - oriente

Metro:
linha verde